One of our goals with this blog is to both cast a critical eye on the coverage of LGBT issues, but also highlight journalism we like.  In that spirit, take a look at two tennis-themes pieces that show how good journalism does not have to be showy, but how LGBT themes can be mined in very traditional journalism places: the personal column and the sports story.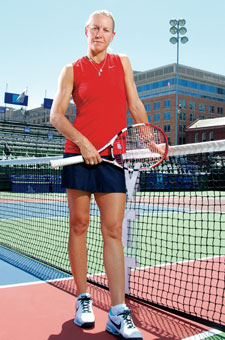 First, a column by Deb Price about how playing tennis doubles is like maintaining a great relationship.  Nothing revolutionary here, but these kinds of columns have long been a staple of print journalism. Price was a groundbreaker when the Detriot News launched her weekly column back in 1992 and this column shows why her work is important.  It's just so normal.  Like the lives of LGBT people all over the U.S., it's just about normalcy.
The second story is by co-publisher of D.C.'s  Metro Weekly, Sean Bugg. Anyone who knows Sean knows he's pretty obsessed with tennis and he brings that obsession, on occasion, to Metro Weekly when he interviews professional tennis players.
His recent story about Rennae Stubbs is great because Sean knows tennis and Sean knows LGBT issues, and he hits both of them in this story.
MW: What is it that makes a player a successful professional instead of just a really good player? Is it a mental difference or a physical difference that puts you and others on the pro tour?

STUBBS: To be honest with you, it's a combination of so many things. I've seen the ones that have made it and why they make it. I've seen the ones who haven't made it and why they haven't made it. I think the biggest singular thing that you have to have as a professional is commitment. You have to have commitment to practice, you have to have commitment to not going out late at night, not half-assing it in practice. You have to have that mental edge to push yourself when you don't want to. You have to have the mental edge to tell yourself to go for it when you're nervous.

It comes down to your decisions in your professional life. I think that pertains to anybody's life in any profession. You have choices and you can go this way or that way. To be a professional athlete you have to make the right choice every time, not sometimes.  I see that with the greats. There's never a cutting of corners. It's the way I have to do it. I have to be professional, I have to practice hard, I got to get in the gym, I have to mentally  be positive with myself. There are highs and lows but you have to constantly tell yourself you have to get better.

I think a lot of it is mental because you may be physically able to do things, you may have the talent, but you have to have the mental attitude to tell yourself to do those things or get in the gym, or get on the practice court for another hour. The difference in being good and great is the mentality and the commitment to being great.
That's a great question and a great answer, and not the kind of sports coverage you usually see in the LGBT media. Here's another:
MW: When you and Lisa Raymond were playing as a doubles team and winning a lot of tournaments, you were also partners off the court?

STUBBS: Yes.

MW: Was that difficult, playing doubles with someone you were involved with?

STUBBS: Looking back at that time, it was unbelievable. We were sharing it together. We won grand slam titles together. It was amazing. It was some of the best, most awesome moments of my whole life to be on the court with somebody I felt that way about and we got to share and talk about it before and after. It was awesome. Not many people have that moment with somebody that they care so much about. So, yes, it was great. Having said that, some of the fights we would have on the court! We wouldn't even speak to each other. We played a tournament in San Diego where we didn't even talk to each other for the third set and we still won it.

But the highs were unbelievable. I don't think people will ever realize how good Lisa and I really were. To deal with what we had to deal with! It's like playing with your brother or sister — impossible, because you just want to kill each other. I don't recommend playing with your girlfriend or boyfriend, I can tell you.
Sean is able to ask substantive questions both about tennis and LGBT issues, making this a much more interesting and substantive story than you often see in either sports journalism or LGBT journalism.