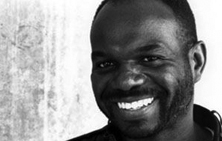 In 1992, Marlon Riggs wrote about the questions the approaching 21st century raised. The challenges to the "cozy myths by which America has been ritually defined…In the next century, can we even continue to speak (could we ever?) of a collective 'we?'"
For the longest time, of course, these questions had simple answers: "America was white. America was male. America was heterosexual."
Through his work, Riggs sought not to redefine America but to illuminate what it truly was. Before losing his five-year battle with AIDS on April 5, 1994, Riggs used his work to demand attention for those he believed were going unnoticed in American society.
Born in Fort Worth, TX, in 1957, Riggs would graduate magna cum laude from Harvard University and earn an M.A. in journalism in 1981 from the University of California, Berkeley—where he would later teach documentary film. He received an honorary doctorate from the California College of Arts and Crafts (1993) and numerous awards including a George Foster Peabody Award, Best Video New York Documentary Film Festival (1990), the Erik Barnouw Award from the Organization of American Historians and the 1991 Maya Daren Lifetime Achievement Award from the American Film Institute.
A gifted writer and educator, Riggs was best known for his powerful use of the documentary film. Works like "Ethnic Notions" (1987) and "Color Adjustment" (1991) pushed the envelope both artistically and in their challenging examinations of what it was to be black in America.
It was, however, "Tongues Untied" (1989) that moved Riggs to the center of the national debate on public funding for the arts. In July 1991, the PBS documentary program "POV" aired "Tongues Untied" and both the award-winning film, in which Riggs cast his lens on the lives of gay, black men, and PBS's decision to broadcast it were targeted as part of a larger campaign to eliminate the National Endowment for the Arts. Riggs faced his critics head-on, responding to them with, among other writings, a New York Times opinion piece titled "Meet the New Willie Horton."
Passionate and tireless, Riggs passed away while working on what would be his final film, "Black Is…Black Ain't" (1995). Of the film, author Alice Walker said it was, "Like Marlon himself…brilliant, thoughtful, undaunted by anticipated criticism, and profoundly salutary to our health."