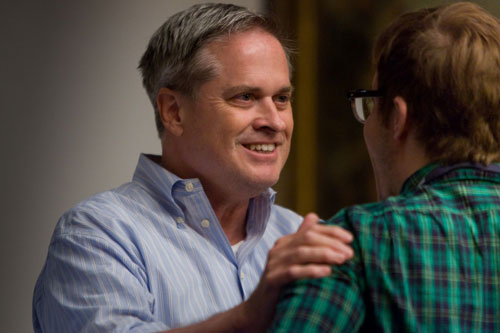 Do you feel stuck in your professional development and need some guidance? Are you wondering what steps you need to take for the next phase of your career? These are common challenges that professionals face in their careers. Sometimes, to find the right answer, it takes a little help from someone who's done it all before.
The NLGJA: The Association of LGBTQ Journalists Mentorship Program pairs members making the next step in their career with some of our seasoned, veteran members who have done it all before. The program aims to create lasting relationships between members within their field. These mutually beneficial partnerships provide important resources to help the next generation of leaders in journalism to succeed.
NLGJA: The Association of LGBTQ Journalists can connect you with someone who genuinely cares about your professional growth. Working together, members build new skills within the network that will ultimately enrich the field of journalism.
Our mentorship program is currently being redeveloped. Stay tuned for more information!
Each relationship within the NLGJA: The Association of LGBTQ Journalists Mentorship Program is unique and thus defined by the needs of its participants. Mentorships last one year and participants are asked to check in with their mentor/mentee at minimum once every three months. The typical mentor/mentee relationship could include:
Chats over coffee
Regular meetings over phone, email or social media
Advice on career or school work
A detailed career plan to help you move your career objectives forward
Social media, email or cloud assistance with career or school work
Professional networking advice to identify who you should know and meet them
Mentorship has been a cornerstone of the association's mission provide professional development to our members. Sign up today, as either a mentor or a mentee, to be part of the next generation of mentoring relationships here at NLGJA: The Association of LGBTQ Journalists.