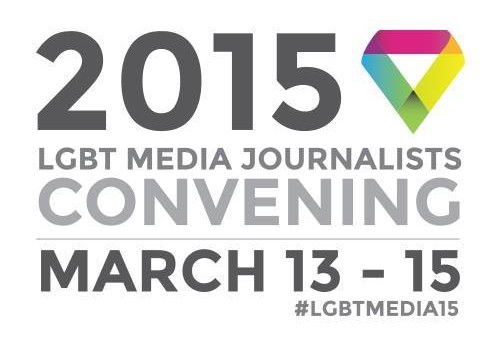 The National Lesbian & Gay Journalists Association is proud to host the 2015 LGBT Media Journalists Convening, sponsored by the Evelyn and Walter Haas Jr. Fund.
With the theme of "What Happens When You Catch the Car," the forum will be held Friday, March 13 to Sunday, March 15, in Philadelphia, PA. The goal of the forum is to strengthen the capacity of LGBT members of the media and blogosphere to more deeply understand and more effectively communicate critical issues facing the LGBT community, as well as assist in increasing the presence and diversity of LGBT bloggers in the national blogging community.
The convening will use an interactive approach to help attendees build their journalism skills, learn more about LGBT-centric topics beyond marriage equality and employment law and expand audiences through on-site media training with broadcast experts.
Attendees will report, blog, livestream, tweet, etc., all through the event. NLGJA members not attending are invited to follow the social media action, to join the conversation and learn as well. Follow #LGBTMedia15 to be part of the conversation.
2015 LGBT Media Journalists Convening host committee:
Bil Browning, Bilerico Project
Trish Bendix, AfterEllen.com
Brynn Tannehill, Freelance
Faith Cheltenham, BiNet USA Blog
Mark S. King, My Fabulous Disease,
Erin Rook, Freelance
Sarah Blazucki, NLGJA Vice President of Print and Online
Matt Foreman, Evelyn and Walter Haas, Jr. Fund
Read more about the host committee:
Trish Bendix
Trish Bendix is a writer and editor in Los Angeles, California. She is currently Editor in Chief of AfterEllen.com.
Trish's work has been published in Cosmopolitan, Slate, The Village Voice, Time Out Chicago, Out, Punk Planet, Bitch, The Frisky, AlterNet and The Huffington Post. Her fiction has appeared in The Q Review and CellStories and she has an essay in the 2010 Seal Press anthology, Dear John, I Love Jane. Her work will be included in the forthcoming anthologies More Than Marriage (February 2015) and Opposing Viewpoints: Celebrity Culture (Layman Poupard Publishing).
Trish is a board member of the Gay and Lesbian Entertainment Critics Association, and member of the Television Critics Association as well as the National Lesbian and Gay Journalists Association.
Sarah Blazucki
Sarah is the vice president for print and digital media for the National Lesbian & Gay Journalists Association. She is the former editor of Philadelphia Gay News, the oldest LGBT newsweekly in the U.S. During her tenure from 2006-12, PGN staff won more than 35 awards for news writing, arts and entertainment, columns, photos and advertising.
Sarah now lives in D.C. and is an editor for the Peace Corps, where she isco-president of the agency's LGBTQA employee resource group, Spectrum. Since 2013, she has been on the board of UNITY: Journalists for Diversity, an alliance of minority journalist organizations.
In addition, Sarah is a freelance résumé writer and has served as a contributor, editor and proofreader for several résumé writing books. She received her B.A. from Towson State University in mass communications, with a concentration in journalism and a minor in women's studies. In her free time, Sarah runs, bikes, climbs rocks and practices yoga.
Faith Cheltenham
As BiNet USA's President, Faith Cheltenham works to advocate for bisexual, pansexual, fluid, and queer communities. An LGBT advocate since 1999, Faith has written on LGBT issues for South Florida Gay News, Advocate, Huffington Post, The Bilerico Project, the Human Rights Campaign, and GLAAD. A techie since birth, Faith has worked as a digital strategist on campaigns with Warner Bros; Sarah Ferguson, the Duchess of York; and Macmillan.
In 2013, Faith co-organized the first bisexual community issues roundtable at the White House alongside Ellyn Ruthstrom of the Bisexual Resource Center. And in 2014, Faith was honored to meet President Obama privately alongside other LGBT leaders before witnessing the President sign Executive Order 11246 which protects LGBT employees of federal contractors from discrimination. A mom and step-mom, Faith lives in LA with her husband Matt, a Sr. Android developer at Grindr.
Brynn Tannehill
Brynn is originally from Phoenix, Ariz. She graduated from the Naval Academy with a B.S. in computer science in 1997. She earned her Naval Aviator wings in 1999 and flew SH-60B helicopters and P-3C maritime patrol aircraft during three deployments between 2000 and 2004. She served as a campaign analyst while deployed overseas to 5th Fleet Headquarters in Bahrain from 2005 to 2006. In 2008 Brynn earned a M.S. in Operations Research from the Air Force Institute of Technology and transferred from active duty to the Naval Reserves. In 2008 Brynn began working as a senior defense research scientist in private industry. She left the drilling reserves and began transition in 2010. Since then she has written for Huffington Post, The New Civil Rights Movement, Salon, and The Bilerico Project as a blogger and featured columnist. She serves on the board of Equality Ohio and SPARTA.
Brynn and her wife Janis currently live in Xenia, Ohio, with their three children.
Mark S. King
Mark S. King is an award winning blogger an author living in Baltimore. His written and video blog, My Fabulous Disease, chronicles his life as an HIV positive gay man in recovery, profiles notable advocates, and provides sometimes funny (and often controversial) commentary on HIV and sexual politics.
Mark received the first "Excellence in Blogging" award from the National Lesbian and Gay Journalists Association in 2014, and is a nominee for a 2015 GLAAD Media Award. He has been writing about living with HIV since shortly after testing positive in 1985, the week the antibody test became publicly available. His memoir, A Place Like This, recounts his years in Los Angeles during the dawn of the epidemic.
Mark's work has appeared in Newsweek, The Advocate, and POZ Magazine, and on numerous online sites such as Bilerico and TheBody. He has made appearances on outlets such as CNN and NBC News, and is a frequent guest on Huffington Post Live.
Mark attributes his longevity with HIV to being an empowered patient, the love of a good man, and double chocolate brownies made from scratch.