2:00pm – Grand Ballroom
Moderator: Sarah Blazucki
Panelists: Erik Olvera, Tiona McClodden and Yasmin Nair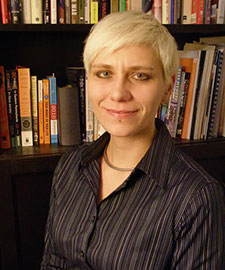 Sarah Blazucki
Twitter @sarahblazucki
Sarah is the vice president for print and digital media for the National Lesbian & Gay Journalists Association. She is the former editor of Philadelphia Gay News, the oldest LGBT newsweekly in the U.S. During her tenure from 2006-12, PGN staff won more than 35 awards for news writing, arts and entertainment, columns, photos and advertising.
Sarah now lives in D.C. and is an editor for the Peace Corps, where she is co-president of the agency's LGBTQA employee resource group, Spectrum. Since 2013, she has been on the board of UNITY: Journalists for Diversity, an alliance of minority journalist organizations.
In addition, Sarah is a freelance résumé writer and has served as a contributor, editor and proofreader for several résumé writing books. She received her B.A. from Towson State University in mass communications, with a concentration in journalism and a minor in women's studies. In her free time, Sarah runs, bikes, climbs rocks and practices yoga.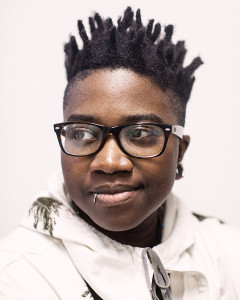 Tiona McClodden
Twitter Handle @harrietsgun
Tiona McClodden is a filmmaker and visual artist. She produces and distributes her work through her film and media imprint, Harriet's Gun Media whose mission is to produce and distribute works of art across a range of media platforms that examine, explore, and critique issues at the intersections of race, gender, and sexuality. Themes explored in McClodden's films have been social change, social realism, re-memory and more recently narrative biomythography.
She has produced, written and directed a range of films including her award winning feature-length documentary film, black./womyn.: conversations with lesbians of African descent, a short narrative film Bumming Cigarettes, and an experimental film portrait, roots.|&|rigor. featuring Philadelphia based sculpture artist Lorna Williams. She also recently debuted the exhibition of the first part of her upcoming four part series, Be Alarmed: The Black Americana Epic, Movement I – The Visions.
Tiona lives and works in North Philadelphia, PA.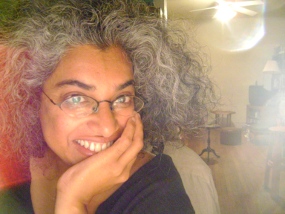 Joining us via Skype:
Yasmin Nair
Twitter: @NairYasmin
Yasmin Nair is a writer, academic, and activist based in Chicago.  She is a co-founder of the collective Against Equality and a member of Gender JUST Chicago. Nair has written for Windy City Times, In These Times, Monthly Review, Alternet, The Bilerico Project, and numerous other publications, and is currently working on a book-length project, Strange Love: Affect, Neoliberalism, and Social Justice Movements in the Age of Feeling. Her work is archived at www.yasminnair.net.