Today is a somber day for our country and NLGJA joins in the reflection on this, the 15th Anniversary of 9/11 as we wrap up our 2016 National Convention & LGBT Media Summit in South Beach.
We hope solace comes to those in need and insight and resolve comes to us all.  
We feel fortunate to have had the opportunity to spend the past several days honing our craft and expanding our networks with colleagues and friends, both old and new. NLGJA – the Association of LGBTQ Journalists would like to thank the many for making our convention a success.
The Convention Planning Committee works hard to bring relevant and exciting programming to convention attendees every year. Attendee feedback helps to shape the schedule and content that is offered from year to year, and NLGJA invites those who spent the weekend with us to complete a brief survey regarding convention programming and logistics.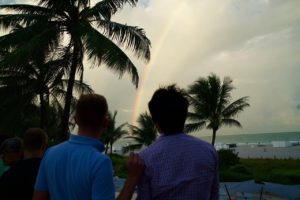 NLGJA would like to thank the work of so many volunteers who helped to make the convention run so smoothly, especially NLGJA President Jen Christensen and NLGJA Vice President for Broadcast Ken Miguel who led the way as convention co-chairs. Additionally, we would like to thank Jason Parsley for serving as the LGBT Media Summit chair. Together their hard work and dedication to the mission of NLGJA made the workshops, plenaries, reception programs and other activities possible.
We extend our appreciation to our many speakers, presenters and moderators who shared their ideas and insights throughout the weekend. Convention attendees were fortunate to hear speakers including Co-founder and CEO of Equality Florida Nadine Smith, transgender Team USA triathlete Chris Mosier, CBS Sunday Morning Correspondent Mo Rocca, NPR reporter Neda Ulaby, Entertainment Weekly Editor in Chief Henry Goldblatt and People Magazine Editorial Director Jess Cagle, among many, many others.
Throughout the convention Geoff Dankert and Susan Lindsay served as emcees, providing key agenda points and Golden Girls trivia. NLGJA appreciates the spunk they brought to each reception and plenary.
NLGJA was excited to induct two new members into the LGBT Journalists Hall of Fame, LZ Granderson and Ina Fried. NLGJA also honored the 2016 Excellence in Journalism Award winners. NLGJA Journalist of the Year Award winner Dominic Holden and Sarah Pettit Excellence in LGBT Media Award winner Lucas Grindley also had the opportunity to accept their awards and make remarks at our Closing Reception.
NLGJA would like to thank the many sponsors who made the 2016 National Convention & LGBT Media Summit possible. Without their continued financial support, NLGJA would be unable to offer the terrific and diverse programming year after year. We thank them, and look forward to our continued partnership with each of them.
The Connect Student Journalism Project produced a variety of compelling stories by our 12 student journalists. It is with great appreciation that we thank their volunteer mentors and Lead Project Manager Caroline Que, along with the project's sponsors. Read their stories at www.NLGJAConnect.org.
NLGJA would also like to thank those who helped with the silent auction, made a donation, volunteered for the critiques, advertised with NLGJA and joined us as exhibitors at the Career & Community Expo. NLGJA is grateful to Auction Chair Reed McDowell – who in partnership with Michael Caprio and others – secured so many auction items. The proceeds support NLGJA's year-round work to advance inclusive diversity in newsrooms and news coverage. The Not-So-Silent Auction remains open online, and we invite you to visit BiddingforGood.com to bid on items ranging from weekend getaways to entertainment packages.
NLGJA extends a very warm welcome to three new Lifetime Members, Eric Walter, Bethany Howe and Lisa van Arsdale. Additionally, NLGJA would like to recognize Javier Morgado, Eric Hegedus and Senta Scarborough who committed to sustaining contributions as new monthly donors.
NLGJA will return to the Northeast after recent conventions in South Beach and San Francisco. The 2017 National Convention will be held at the Loews Hotel in Philadelphia September 7-10. Registration is open now, and NLGJA is running a special discounted Liberty Rate through January 8. Session proposals are also being accepted here.
Finally, we would like to thank all of our members and non-members who spent the last several days with NLGJA in South Beach. The support of our membership is essential in continuing our work towards more fair and accurate coverage of LGBT issues, and we thank our members for that support.
NLGJA wishes all convention attendees safe travels to their destinations, and we look forward to the 2017 National Convention next year.
# # #
About the National Lesbian & Gay Journalists Association.
NLGJA is an organization of journalists, media professionals, educators and students working from within the news industry to foster fair and accurate coverage of LGBT issues. NLGJA opposes all forms of workplace bias and provides professional development to its members. For more information on the National Lesbian & Gay Journalists Association, visit the NLGJA Web site at https://www.nlgja.org.