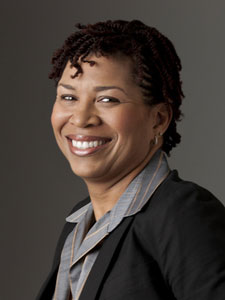 NLGJA is pleased to announce that NPR's Michel Martin will return to host the annual Dateline:DC and present the Randy Shilts Award to legal analyst Jeffrey Toobin on Nov. 19. Martin, who received the inaugural Shilts Award in 2012, was recently named weekend host on NPR's "All Things Considered."
Martin started her career at NPR as the host of "Tell Me More" in 2006, where she regularly engaged underrepresented voices and perspectives to inform her listeners on myriad topics. Known for delving into difficult topics with aplomb, Martin has covered stories large and small throughout her 25-plus year career, bringing her curiosity to issues that intrigue, interest and impact listeners around the country. Her frank discussions and insight into race, faith, identity and family have long earned her respect from listeners and colleagues alike. Martin covers everything from building trust between police and communities to immigration, from football to unpacking our avoidance of being "uncomfortable." In the past year, she traveled the U.S. to produce "Michel Martin: Going There," a series of live events hosted in collaboration with NPR member stations. The program combined interviews, panel discussions and cultural expression—leading conversations that engaged communities around ideas, frustrations and solutions to issues that impact their lives. The next series of "Going There" begins Nov. 10.
Prior to NPR, Martin worked at both print and television media outlets, including ABC News as a correspondent for "Nightline," The Washington Post and The Wall Street Journal. Martin has won numerous awards, including an Emmy for her news reporting.
Dateline:DC will be held Thursday, Nov. 19, from 6:30-9:30 p.m. at the Mitchell Gold + Bob Williams store, 1526 14th St. NW, Washington, D.C.
Established in 2012, the NLGJA Randy Shilts Award for LGBT Coverage honors journalists who consistently bring stories of the LGBT community to life in mainstream media outlets. The award is named in memory of Randy Shilts, a member of the NLGJA Hall of Fame, who is widely credited with being the first reporter to cover the "gay beat" for a major metropolitan newspaper. His writing in the San Francisco Chronicle brought the stories of gays and lesbians – whether they were living with AIDS or serving in the military – to the attention of millions of Americans. Before his death in 1994, Shilts authored three best-selling books, including the groundbreaking "And the Band Played On," cataloging the rise of the AIDS epidemic in the U.S.
We hope you will join NLGJA and Michel Martin in honoring Jeffrey Toobin on Nov. 19.
Click here to purchase tickets.
Sincerely,
Sarah Blazucki, Dateline:DC Co-Chair
Matthew Berger, Dateline:DC Co-Chair